ALTON, Va. – ArmsUp Motorsports driver Revere Greist dominated the SCCA Oak Tree National in the Formula Continental (FC) division. The Madison, Wisconsin driver topped all six official sessions en route to a double race victory and setting a new FC lap record at the historic 3.2 mile Virginia International Raceway (VIR). Rick Balsley and Jeff Pietz were able to celebrate with their teammate as both drivers took home two top-fives a piece with Balsley scoring a podium finish in race one.

The double race format called for two qualifying sessions in the morning which set the grid for each day's race. Saturday's affair saw Greist lead both qualifying sessions to claim the pole position for the FC race. Both Balsley and Pietz put in solid runs to line up fourth and sixth on the grid respectively.

Race one was all Greist as the ArmsUp driver led the entire 14 lap affair from the pole. Greist, who finished second twice in last year's event, led by 17 seconds at the line to claim his first win of the season and first at VIR. Balsley drove a smart race and was able to bring his car home in the third position, scoring his first SCCA National podium result. This was Balsley's first race back after suffering a broken back early last season making the podium result that much sweeter for the Florida resident. Jeff Pietz had a very consistent run moving into the top-five from his sixth place start to finish a solid fourth.

Not a group to rest on their laurels, Greist and his ArmsUp Motorsports team kept pushing to find more speed out of the number 56 Van Diemen. In Sunday's second qualifying session Greist went more than seven tenths of a second below the previous FC lap record. In SCCA competition lap records are only recorded in race conditions so Greist and team had their goal for the race firmly set at lowering the official lap record. Once again Greist would lead from the pole, running out to a comfortable lead. Continuing to push till the end Greist set the new VIR FC lap record on the race's final lap at a 1:53.128. The time just cleared the previous lap record.

"This was a really good weekend for me and the team," Greist said after the weekend. "We knew we had one of the quickest cars at the track from the word go which allowed me to just focus on my driving and making the car quicker. We were able to test a few different items throughout the weekend and the car kept getting better. Compared to last year we were quicker in every sector which is a testament to how hard this ArmsUp team worked over the offseason. I can't wait for the Blackhawk round to see where we stack-up against the Central Division competition."

Balsley was not able to match his previous day's podium but was still able to pick up a solid top-five result coming home with a fourth place finish. Jeff Pietz drove very steady again to claim the fifth spot making it a double top-five weekend for the ArmsUp driver.

John Greist was also in attendance during the weekend. This was Greist's first time back in the car after suffering a broken back at last year's June Sprints. The Skip Barber veteran turned laps in practice and qualifying. Going into the race however Greist decided more testing was necessary to get his comfort level high enough to race.

ArmsUp Motorsports will now head to Blackhawk farms in South Beloit, Illinois for another SCCA National Double Header. This will be the first chance for the Wisconsin based group to see how they compare to the always tough SCCA Central Division Formula Continental group.

Formed in 1995, ArmsUp Motorsports is one of the premier SCCA Formula Continental and Formula Atlantic racing teams. Based in Elkhart Lake, Wis ArmsUp Motorsports is a full service prep shop for Formula Continentals, Formula Atlantics, and Vintage racing cars. For more information please visit the official ArmsUp website at www.ArmsUpMotorsports.com.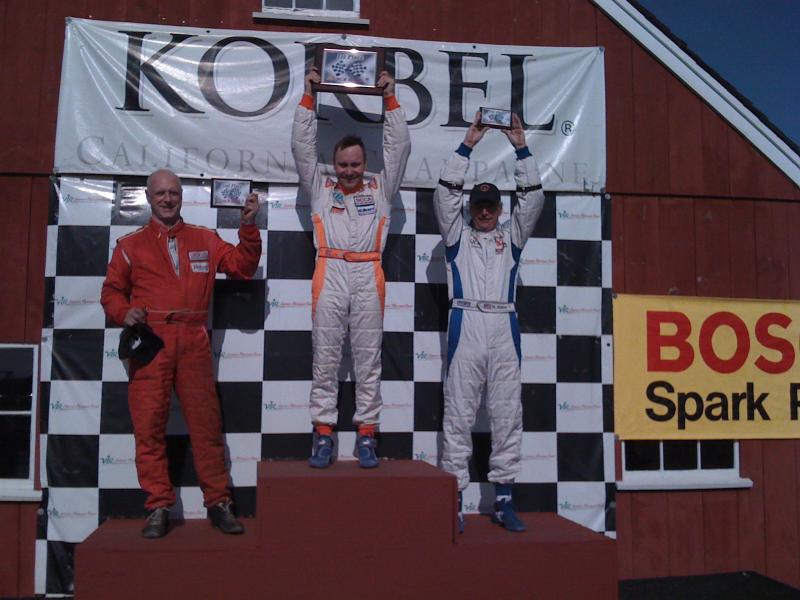 Greist (center) and Rick Balsley (right) share the podium at Virginia International Raceway.
(Photo Courtesy ArmsUpMotorsport.com)