SHEBOYGAN FALLS, Wis. – ArmsUp Motorsports drivers scored victories in consecutive weekends at two different race tracks. Rick Balsley and Jose Paredes scored SCCA Regional victories at the Susie Bonneau Memorial Double Regional. Balsley's win was his first career SCCA Formula Continental victory. One week later Pat Mc Ginnis added two wins to the column at the Gateway International Raceway SCCA Regional / National event.

ArmsUp Motorsports two week stint started out with the Susie Bonneau Double Regional at Road America. Rick Balsley, John Dickmann and Jim Victor took to the track in the Formula Continental division and Jose Paredes made his second appearance of the year in the Formula Atlantic category. Jim Victor started off the weekend with the pole for race one followed by Balsley in sixth and Dickmann in eighth. In the race Victor would lose one spot and finish second with Balsley leaping up three spots to third and Dickmann holding station in eighth. Paredes would sweep the Formula Atlantic field on day one taking both the pole and the race win.

Balsley would lead the ArmsUp FC charge for day two timing in the second position during the morning qualifying session. Victor would line up fourth with Dickmann in the eighth spot. In the race Balsley would move into the lead and pull away to claim his first career SCCA Formula Continental victory. Jim Victor was able to advance one position to claim the final step on the podium. John Dickmann had a strong race going battling well into the top five when a mechanical problem ended his race early. Paredes would not get a chance claim a double win after a gearbox failure in qualifying left him out of race two.

One week later the ArmsUp Team was back in action with Pat Mc Ginnis at his home track of Gateway International Raceway just outside of St. Louis. The regional / national format called for a regional event on day one and a national race on day two. Mc Ginnis cruised to the regional victory claiming the pole and the race win. With the national event on Sunday Mc Ginnis had a bit more competition in the form of four-time National Champion Niki Coello. Mc Ginnis put together a great qualifying session to claim the pole position. An engine problem that presented itself when the ArmsUp team warmed up the car before the race would keep Mc Ginnis from challenging for the outright win. However a non performance tech issue would move Coello to the back of the order and award Mc Ginnis his second win of the weekend.

"What a good couple of events for our guys," Team owner Gregg Borland said from the team's Sheboygan Falls shop. "It was great to see Rick get his first win, he has been working really hard this year and to see that pay off was fantastic. John, Jim and Jose did great jobs as well. It's a shame John had a part failure in race two because he was having a nice race. Pat did an awesome job at Gateway and I was looking forward to seeing him against Niki, but with the engine problem he did all he could to finish the race. The whole team is looking forward to keeping this momentum going for the rest of the season."

No rest for the weary, ArmsUp Motorsports is back in action again this weekend at Road America. In an event within an event Rick Balsley will make his second career appearance in the F2000 Championship Series that is running in conjunction with the SCCA Chicago Region Double Regional. Jeff Peitz, John Dickmann and Jose Paredes will line up for ArmsUp Motorsports in the regional event.

Formed in 1995, ArmsUp Motorsports is one of the premier SCCA Formula Continental and Formula Atlantic racing teams. Based in Elkhart Lake, Wisconsin ArmsUp Motorsports is a full service prep shop for Formula Continentals, Formula Atlantics, and Vintage racing cars. For more information please visit the official ArmsUp website at www.ArmsUpMotorsports.com.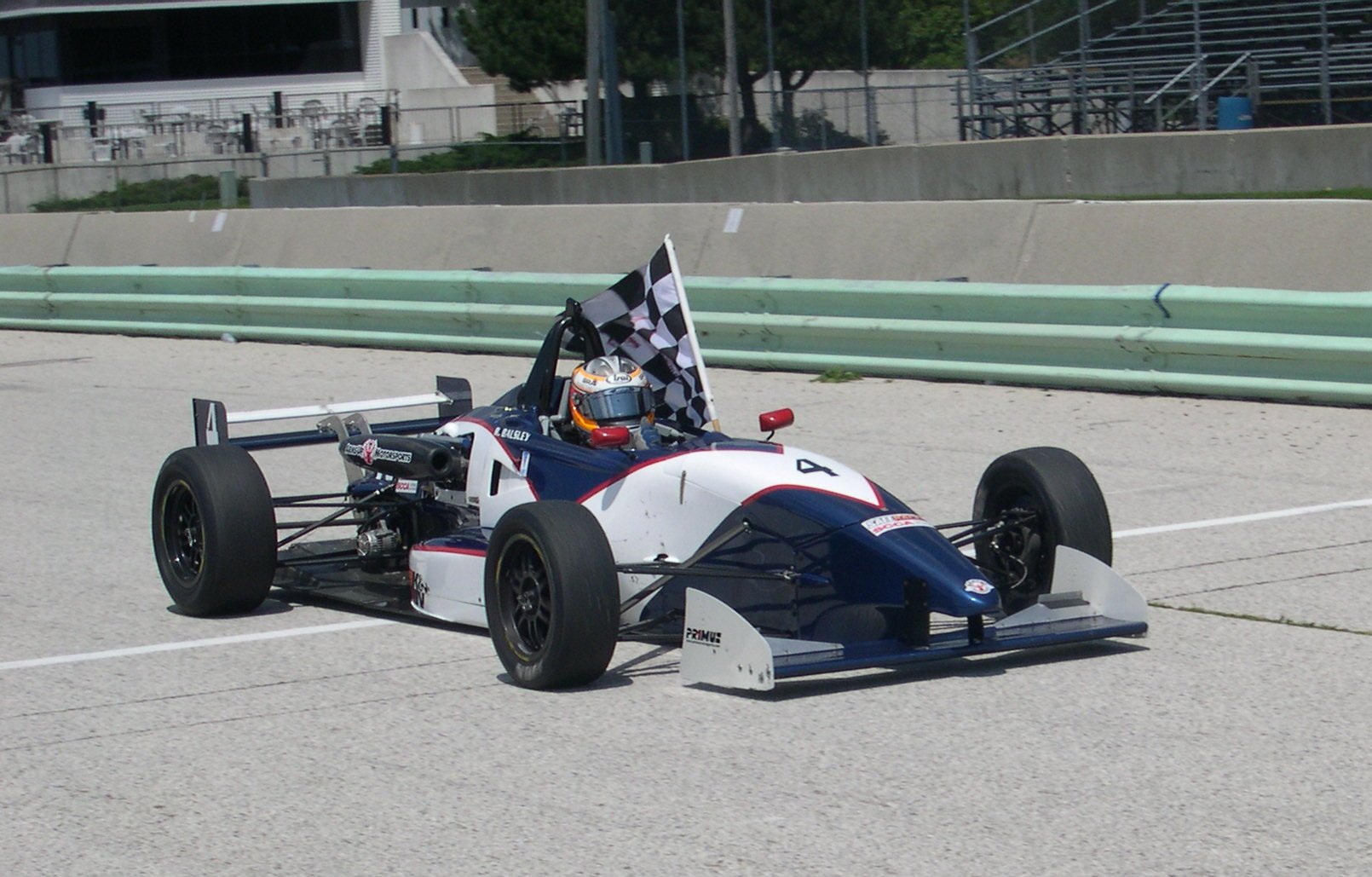 Rick Balsley took his first Formula Continental Victory at the Susie Bonneau Memorial Double Regional (Photo Courtesy ArmsUpMotorsport.com)