ArmsUp Motorsports is proud to announce that the 2012 Cooper Tires USF2000 Winterfest National Class Champion James Dayson has signed on to compete in the full Cooper Tires Presents the USF2000 Championship Powered by Mazda in the National class. The Vancouver, British Columbia based driver will pilot the No. 16 Dayhu Group of Companies/Me & Lewis Ideas Inc./Regal Beagle Bar & Grill Van Diemen for his campaign in the National category.

After spending most of the 2011 season testing F2000 cars at various tracks, 2012 will mark Dayson's first full season behind the wheel of a formula car. In the stout USF2000 National class, Dayson takes a long view on the championship stating, "my goal is to steadily improve throughout the season and be competitive in the national class. Primarily I want to ensure I finish each race and improve lap times each session with my aim to score regular podium finishes by the end of the season."

"At the age of 33 and just starting my career, I know I will be a bit behind some of my rivals on the learning curve but I have made my dream and passion to be a professional racer," Dayson said. "My effort this year will prove that anything is possible if you believe in yourself and put your mind to it. I want to represent my team, sponsor's and USF2000 with a high level of professionalism and integrity, while having fun and taking in everything this sport has to offer."

"We are very excited to have James join us for the USF2000 Championship season," ArmsUp owner Gregg Borland stated. "We have worked with new drivers before so our team environment will be the perfect match for James. With James' attitude and work ethic matched with the level of our National cars, I think we will be challenging for National class wins by the end of the season."

ArmsUp Motorsports is now in the final stages of preparation before the team heads down to Sebring, Florida for the opening rounds of the Cooper Tires presents the USF2000 Championship powered by Mazda held March 14th - 17th in conjunction with the Twelve Hours of Sebring. For regular updates during the event follow ArmsUp Motorsports on Facebook.com.

Formed in 1995, ArmsUp Motorsports is one of the premier SCCA Formula Continental race teams, winning the SCCA National Championship in 2011. Based in Elkhart Lake, Wisconsin ArmsUp Motorsports is a full service prep shop for USF2000, Formula Continental, Formula Atlantic, and Vintage racing cars. For more information please visit the official ArmsUp website at www.ArmsUpMotorsports.com.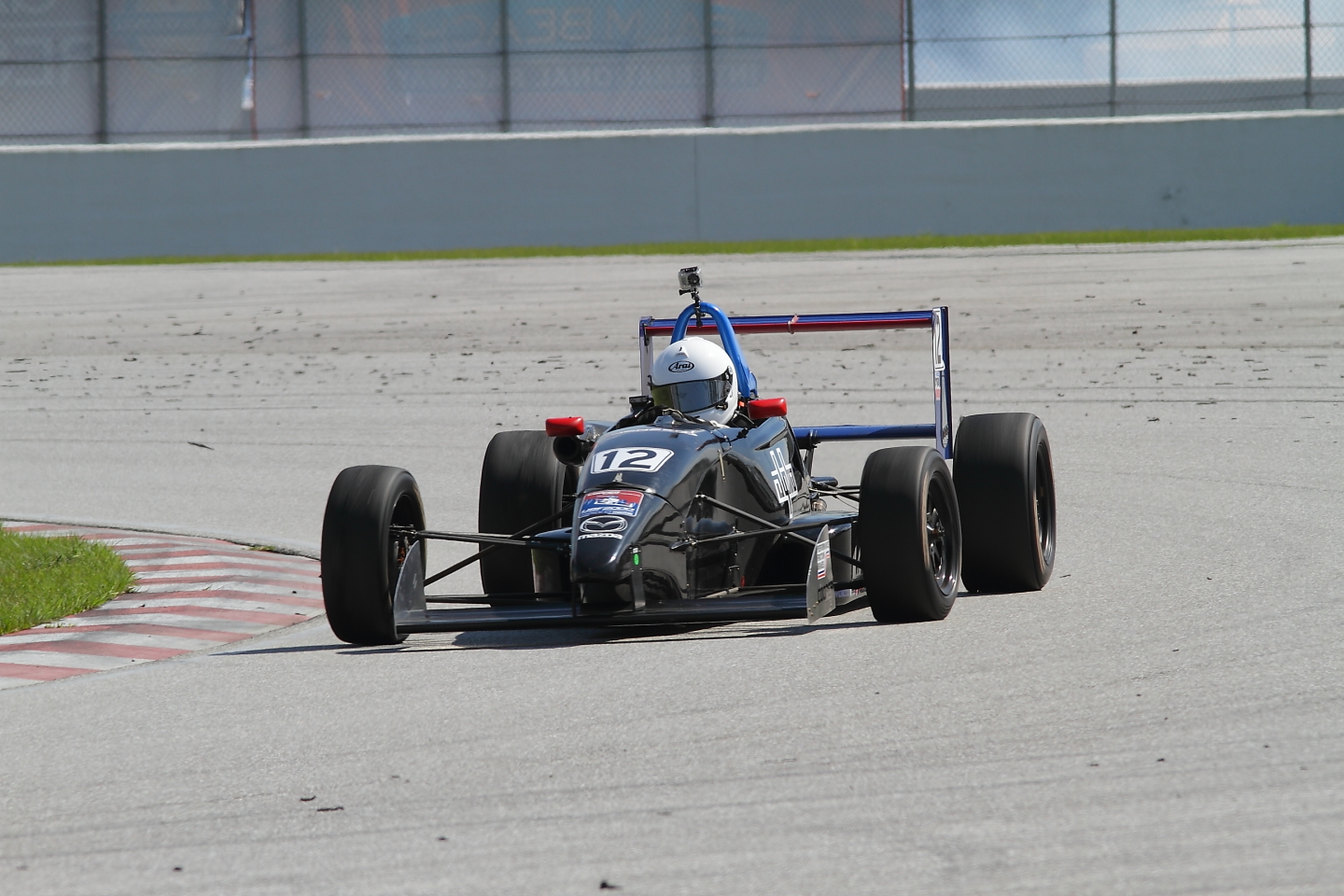 James Dayson will bring his Winterfest Championship to ArmsUp Motorsports for the 2012 USF2000 National class campaign
(Photo Courtesy John Hendrick/USF2000)