Luigi Biangardi and ArmsUp Motorsports proved that their performance in the opening rounds of the Cooper Tires Presents the USF2000 Championship Series Powered by Mazda was no fluke. On the streets of St. Petersburg, Florida last weekend Biangardi was once again a threat at the sharp end of the grid, scoring a fourth place result in race one. Bad luck would once again keep the Inject-It/Gulfstream Properties/Slick Locks/Chicago Indoor Racing driver from scoring his first podium of the season as contact while racing for third ended race two prematurely for Biangardi and his ArmsUp Motorsports team.

The USF2000 St. Petersburg Grand Prix presented by Allied Building Products represented both Biangardi's and ArmsUp Motorsports first trip to the picturesque street circuit that runs along Florida's gulf coast. From the time sheets you would not have known as Biangardi in his No. 15 Van Diemen was fifth fastest at the conclusion of practice two. After the two official practice session Biangardi and the rest of the USF2000 field rolled onto the track for qualifying. Contact with another car early in the session damaged the nose of Biangardi's car, but un-fazed, the 15-year-old driver kept his head down and put himself sixth on the grid a mere six tenths of a second off the pole.

Going into race-one ArmsUp Motorsports had lots of confidence in their young pilot, and like Sebring that confidence was rewarded with an impressive performance. In typically street race fashion, the opening laps were a wild affair and Biangardi was not immune as contact damaged the left front A-arm on his Inject-It/Gulfstream Properties/Slick Locks/Chicago Indoor Racing car. As in qualifying Biangardi drove with a maturity beyond his years. The Chicago native adapted to the damage and was able to move forward from his sixth starting spot. Biangardi finished a USF2000 career best tying fourth place just under one second behind third and set the race's fifth fastest lap with a bent car.

Race two proved to be an anti-climactic event for Biangardi and ArmsUp Motorsports. While battling for the third position Biangardi had contact that ended his race on lap six of the 19 lap event.

"I saw progress in both myself and in the team again this weekend," Biangardi commented after the weekend. "While we improved our position in the first race, the second race did not go as well. We were one of the top three fastest cars on the track but unfortunately our race ended early. We can only look forward to our next test days at Mid Ohio where we are planning to be on the top of the time sheets."

"We once again showed our speed as a team and Luigi once again showed his maturity as a driver," ArmsUp owner Gregg Borland said after the event. "If we had just a little bit of luck I think we would have come away with at least a couple of podium finishes on this Florida swing. I really can't say enough about our team. They did a great job all weekend and I think we established ourselves as a contender for the rest of the season."

After four rounds in the USF2000 Championship Series Biangardi is currently tied for tenth in points. The series will now go on hiatus until late May when Biangardi and ArmsUp Motorsports will attack their first and only oval race of the season on the "Night Before the 500" at Lucas Oil Raceway in Indianapolis, Indiana.

Formed in 1995, ArmsUp Motorsports is one of the premier SCCA Formula Continental race teams, winning the SCCA National Championship in 2011. Based in Elkhart Lake, Wisconsin ArmsUp Motorsports is a full service prep shop for USF2000, Formula Continental, Formula Atlantic, and Vintage racing cars. For more information please visit the official ArmsUp website at www.ArmsUpMotorsports.com.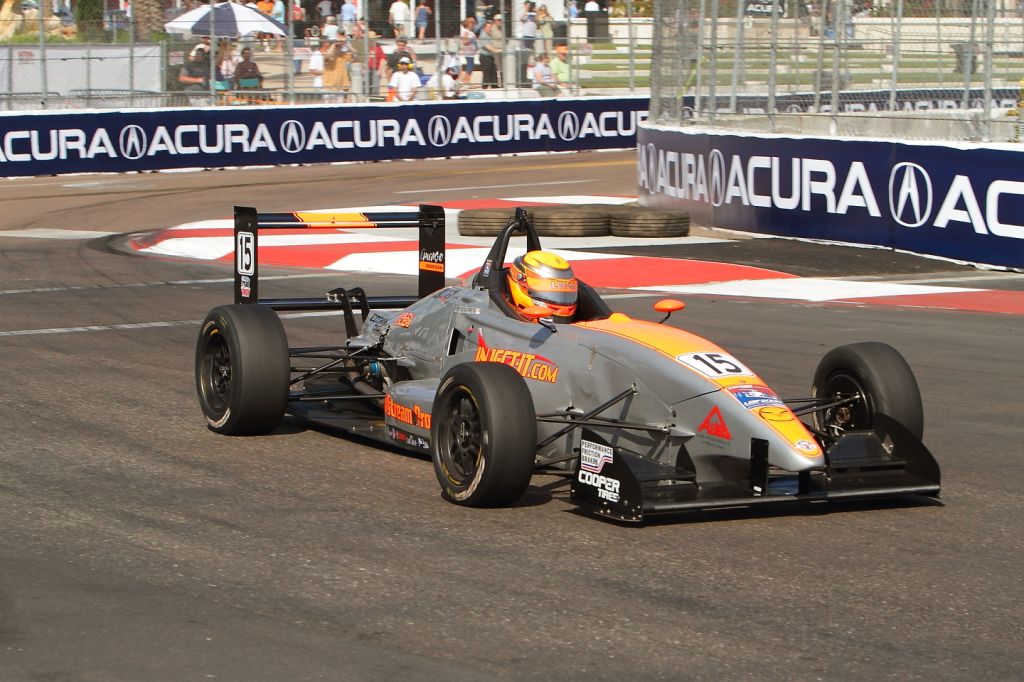 Luigi Biangardi matched his career best USF2000 finish with a fourth on the Streets of St. Pete
(Photo Courtesy John Hendrick/USF2000)