Jerry Szykulski and ArmsUp Motorsports continued their domination of all things Formula Continental (FC) at the Freedom Sprints Double National at High Plains Raceway in Deer Trail, Colorado. Running in scorching heat, track temperatures approached 140 degrees, Szykulski swept the double feature event setting the FC track record at High Plains in the process. Jim Victor joined his teammate on the podium running second in both races allowing ArmsUp to lockout the top two steps of the podium for the first time this season.

ArmsUp Motorsports couldn't escape the summer heat that had gripped the Midwest by heading to Colorado. Temperatures were into the triple digits on both days which made the heat a factor. The Freedom Sprints featured a double race format that would see a feature run on both Saturday and Sunday of the event. Qualifying for race one set the tone for the weekend with the ArmsUp cars of Szykulski and Victor running one-two at the end of the session. In the race Szykulski would run away from the green. Victor was unable to mount a challenge in his RFR chassis as the two drivers ran first and second from flag to flag.

Race two was more of the same with Szykulski taking his fourth pole in as many races and Victor lining up alongside after qualifying second. There was only one more task left to check off for Szykulski on the weekend which was a new track record. The Minnesota resident was able to lower his quick time in race one by 2.2 seconds en route to establishing a new FC track record for the High Plains circuit. Victor once again trailed his teammate home to cap off the Iowa resident's best weekend of 2012 to date.

"Jerry is on fire right now, that's all I can really say," Gregg Borland commented after the race. "We came out here, dealt with the heat, made some gains between the two races and he drove the wheels off the car to get a track record. Jim also did a great job to bring home two podium finishes. The results made for a very nice trip out to Colorado for our team."

ArmsUp Motorsports is back in action this coming weekend at Road America. The team will make their 2012 Vintage Racing debut at The Hawk with Brian Redman. Walter Vollrath will return to the cockpit of his 1978 Lola 497 C-Sports Racer for the first time this season. Rick Balsley will debut his 1969 Brabham BT29 Formula B car after running ArmsUp Motorsports' 1987 Reynard FC at last years The Hawk with Brian Redman.

Formed in 1995, ArmsUp Motorsports is one of the premier SCCA Formula Continental race teams, winning the SCCA National Championship in 2011. Based in Elkhart Lake, Wisconsin ArmsUp Motorsports is a full service prep shop for USF2000, Formula Continental, Formula Atlantic, and Vintage racing cars. For more information please visit the official ArmsUp website at www.ArmsUpMotorsports.com.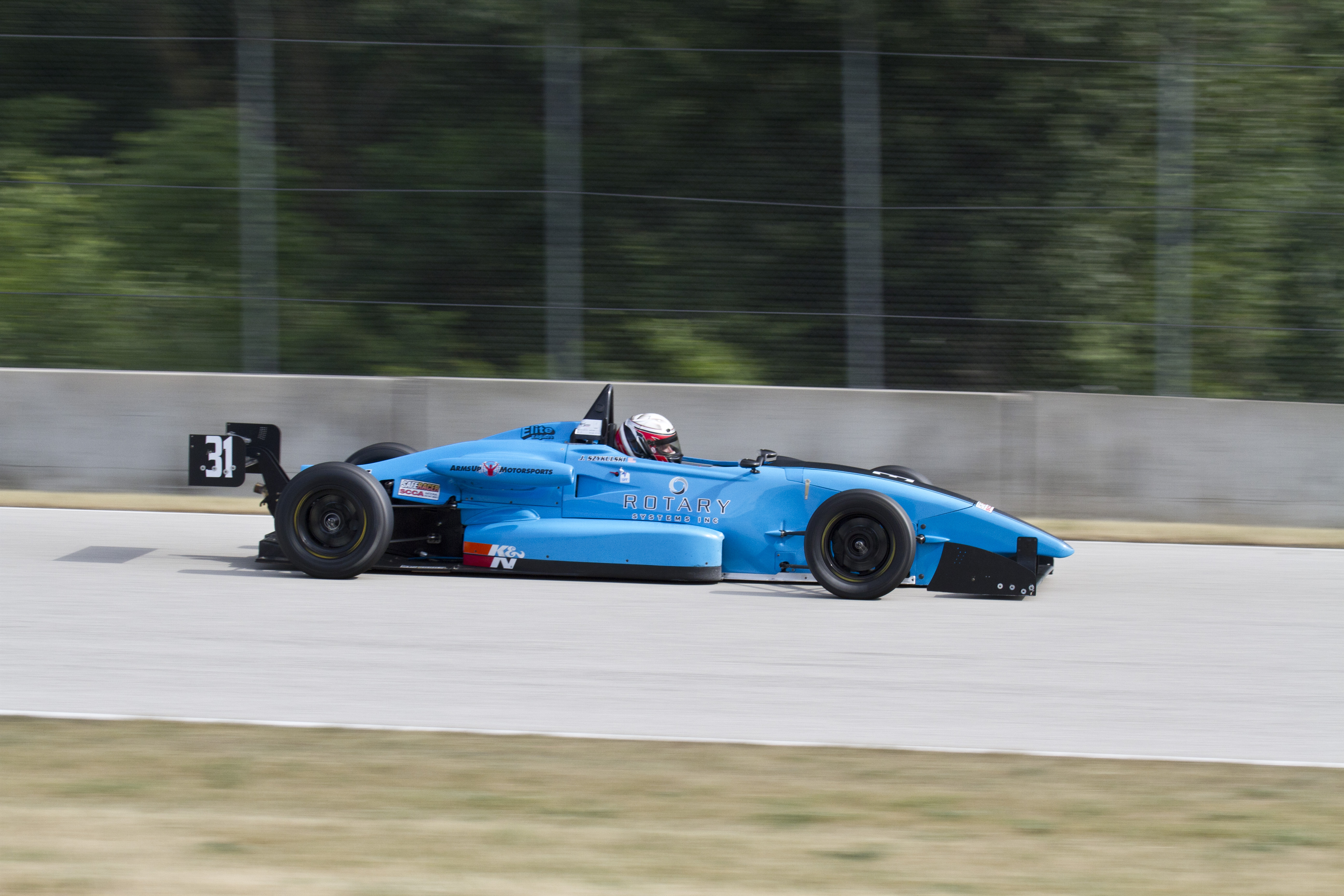 Jerry Szykulski continued his hot streak in the heat of Colorado
(Photo Courtesy Shawn Mueller Photography)