ArmsUp Motorsports' drivers John Dickmann and Jim Victor each had season best weekends at two different venues over the past two weeks. Victor scored his first SCCA Formula Continental National pole of the season in a wet qualifying session at Blackhawk Farms. The Iowa driver backed up the qualifying performance with a drive to second place in the race marking his best finish of the season. Dickmann, who had just come off a strong showing at the SCCA Cat National at the end of July, swept the double race Midwest Council event at Road America this past weekend.

While the ArmsUp Motorsports USF2000 team posted a top-five finish with Luigi Biangardi at Mid-Ohio two weeks ago, the Formula Continental club team was also in action at Blackhawk Farms with longtime team driver Jim Victor. A wet qualifying session Saturday morning allowed Victor to show his rain prowess as he claimed his first pole of the season. Sunday's race turned out to be a dry affair and Victor wheeled is RFR chassis to a second place run marking his best finish of the season.

One week later at Road America John Dickmann had his most successful weekend to date behind the wheel of his Van Diemen. The double race format of the Midwest Council event saw a qualifying and race on Saturday and Sunday of the weekend. Dickmann claimed pole and stormed to the overall class victory crossing the line with an over 30 second margin on the field. Race two proved to be a more eventful affair as contact with a spun car early-on set Dickmann back in the running order. Un daunted the Grafton, Wisconsin driver worked his way back through the field to claim his second win, completing the weekend sweep with two wins and two poles.

"Both Jim and John have been with us for a long time and it's great to see them have such good runs." Team owner Gregg Borland said after the weekend. "Jim seems to really enjoy driving in the rain and it showed with his fine qualifying run at Blackhawk. John has had two really strong weekends straight and I hope to see him keep this form as we enter the last part of the season."

ArmsUp Motorsports is back in action this weekend at Road America. Luigi Biangardi and James Dayson will both be competing in the Cooper Tires presents the USF2000 Championship Powered by Mazda triple header as a support event to the American LeMans Series.

Formed in 1995, ArmsUp Motorsports is one of the premier SCCA Formula Continental race teams, winning the SCCA National Championship in 2011. Based in Elkhart Lake, Wisconsin ArmsUp Motorsports is a full service prep shop for USF2000, Formula Continental, Formula Atlantic, and Vintage racing cars. For more information please visit the official ArmsUp website at www.ArmsUpMotorsports.com.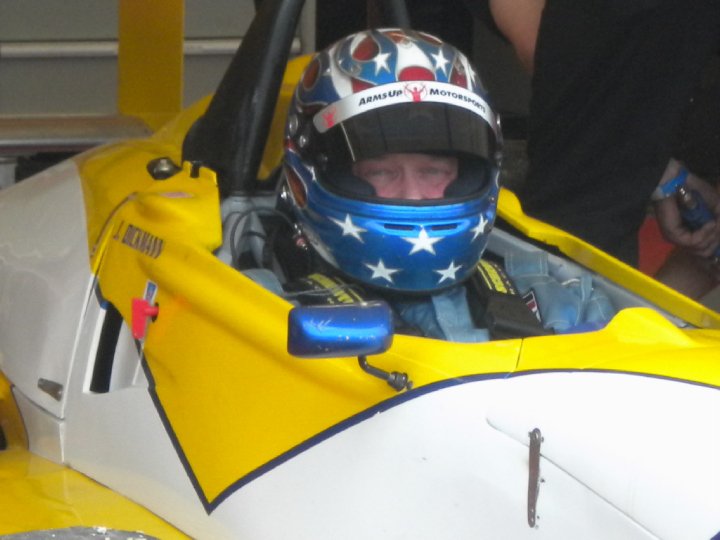 John Dickmann swept the Midwest Council event last weekend at Road America
(Photo Courtesy ArmsUp Motorsports.com)