ArmsUp Motorsports Continues USF2000 Program with Tests at Mid Ohio and Lucas Oil Raceway
ArmsUp Motorsports spent the better part of last week traveling between the Mid Ohio Sports Car Course in Lexington, Ohio and Lucas Oil Raceway in Indianapolis as the Cooper Tires presents the USF2000 Championship Series powered by Mazda, holding back to back series tests in the Midwest. At Mid Ohio Luigi Biangardi and James Dayson were behind the wheel of ArmsUp prepped Van Diemens. Biangardi continued his early season form posting the quickest time in second of four sessions. Dayson, a National Class driver, made a lot of progress over the two day test in his debut for the Elkhart Lake, Wisconsin based team. From Mid Ohio the ArmsUp Crew made their way to Indianapolis where Biangardi made his oval debut at Lucas Oil Raceway. The driver of the Inject-It/Gulfstream Properties/Slick Locks/Chicago Indoor Racing car spent the single day test getting acclimated to the famed short oval.

Starting off the week at the Mid Ohio Sports Car Course Biangardi and ArmsUp newcomer James Dayson were behind the wheel for the two day test which was split into four different session. In the four sessions Biangardi was no worse than fifth and ended day one as the quickest driver overall. Over the course of the four sessions the USF2000 paddock saw Biangardi lower his quick lap each time out. Dayson spent most of the two days getting to know his ArmsUp prepped Van Diemen. Having never seen Mid Ohio before Dayson found a higher comfort level each time in the car.

"A good experience would be an understatement," Dayson said after his first test with ArmsUp Motorsports. "I had an amazing time. My decision to sign with ArmsUp was reaffirmed ten-fold based on my experience with them. They are a very professional team who takes great pride in their operation and work, that is clearly evident. I learned a lot and had a blast driving the car, which felt great in every way. I strongly believe that the team is a great fit for me and am stoked for the rest of the season."

From the Mid Ohio test ArmsUp Motorsports and Luigi Biangardi headed to Lucas Oil Raceway for the Mazda Road to Indy Oval Clinic. As the ArmsUp crew prepped their Van Diemen for Luigi's maiden oval test, Biangardi was getting oval instruction from the likes of Bobby Rahal, Ed Carpenter, Beaux Barfield and others. On track action resumed Saturday with Biangardi working steadily through the ArmsUp test program. The Chicago native ended the two sessions 14th overall on the time sheets just over four tenths-of-a-second off P1.

"This week went very well at both Mid Ohio and Lucas Oil Raceway," Gregg Borland said after the team arrived back in Wisconsin. "We had a good time working with James (Dayson). We have a few things to work on, but it will be great to see his progress as the season rolls on. Luigi did a fantastic job at Mid Ohio, we were once again among the front runners for both days. For his first oval test he did exactly what he needed to do, drove smart and consistent which allowed us to collect a lot of good data for the Night Before the 500."

ArmsUp Motorsports now turns its attention to its SCCA National race of the season at Blackhawk Farms this weekend. Running Formula Continental will be ArmsUp Motorsports longest running driver Jim Victor and last year's runner up in the SCCA National Championship Runoffs, Jerry Szykulski. Joining ArmsUp for the first time will be Formula Atlantic driver Dan Bruggeman. Bruggeman will be piloting a Ralt RT 41 on the two-mile Illinois track.

Formed in 1995, ArmsUp Motorsports is one of the premier SCCA Formula Continental race teams, winning the SCCA National Championship in 2011. Based in Elkhart Lake, Wisconsin ArmsUp Motorsports is a full service prep shop for USF2000, Formula Continental, Formula Atlantic, and Vintage racing cars. For more information please visit the official ArmsUp website at www.ArmsUpMotorsports.com.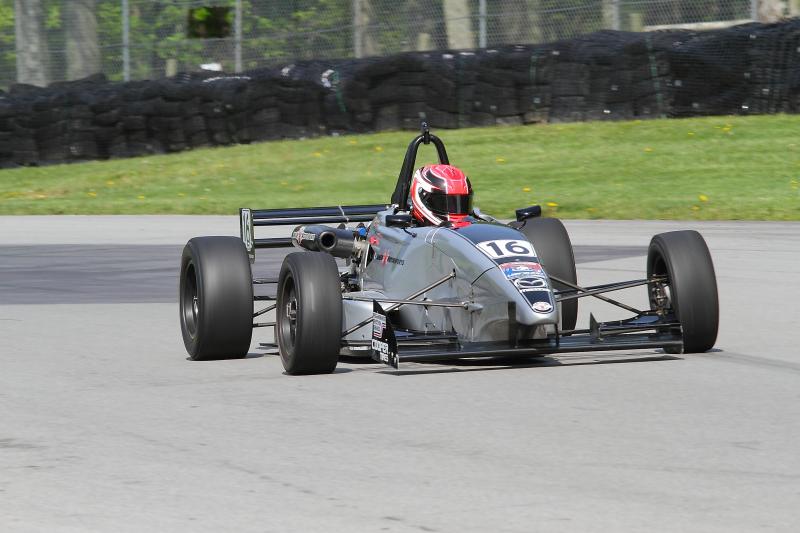 James Dayson made his ArmsUp Motorsports debut at Mid Ohio
(Photo Courtesy John Hendrick/USF2000)