News
ArmsUp Motorsports at the Runoffs - Testing
TOPEKA, Kansas - ArmsUp Motorsports drivers Jim Victor and Kirk Kindsfater began their quest for the SCCA National Championship at the Heartland Park Topeka racetrack. The week long event, which pits the best drivers from each of the SCCA regions together for a winner-take-all National Championship, started over the weekend with testing Saturday and Sunday.

In what could best be described as a crowded track, Formula Continental's session was on track with eight other classes at the same time, Victor and Kindsfater re-acclimated to the Heartland Park circuit. Even though both drivers had been to the track before there were new challenges for each of them with the Heartland Park track receiving several changes from the previous year's Runoffs. The new layout is almost ten seconds faster than last years due to two new high-speed chicanes on the flowing 2.5-mile circuit.

Both Kindsfater and Victor showed well in the two test days. Fighting to find a clear track Kindsfater was regularly at the top of the time sheets with Victor not to far behind. The ArmsUp Crew tried several different changes to the cars during the two days trying to find the optimum setup. The real test for the team starts Monday with the first of four 20-minute qualifying sessions at 9:50 AM.

ArmsUp Motorsports will be posting daily from the SCCA Runoffs so check back at ArmsUpMotorsports.com to keep track of the team's progress.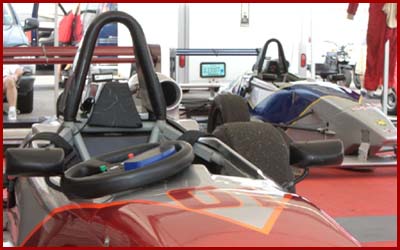 Kindsfater and Victor put their ArmsUp Motorsports prepared cars through their paces over the two days of testing.