News
ArmsUp Motorsports at the Runoffs - Tuesday Qualifying
TOPEKA, Kansas - Jim Victor was able to post his first official laps of the SCCA National Championship Runoffs this morning. With the rain clouds from Monday morning all but a memory, Victor took his number 01 Van Diemen to track for his first qualifying session of the week.

The Heartland Park track was quite fast this morning with temperatures in the mid 60's for the session. Victor capitalized on the quick circuit as well as a clean track posting his quickest time of the weekend. The ArmsUp driver ran a lap of 1:33.904 which was good enough for 11th on the grid.

Kirk Kindsfater did not go out today as he took a scheduled trip back to Colorado for work. Both ArmsUp drivers will be in action for tomorrow afternoons qualifying session. Check back tomorrow to see if the ArmsUp cars to move up the grid in qualifying session number three.

ArmsUp Motorsports will be posting daily from the SCCA Runoffs so check back at ArmsUpMotorsports.com to keep track of the team's progress.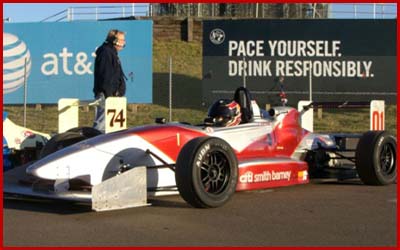 Jim Victor just missed the top 10 in his first day of qualifying.