News
ArmsUp Motorsports at the Runoffs - Wednesday Qualifying
TOPEKA, Kansas - Kirk Kindsfater will be forced to wait till the last day of qualifying to lay down a time for the SCCA National Championship Runoffs. Wednesday's qualifying session was scheduled to be a 10-minute session, but the entire FC field spent that time in pit-lane. Just after the FC field took the green a car went off in the high speed turn 1-2 complex which brought out the black flag.

The cars of Jim Victor and Kirk Kindsfater had just left pit-lane with a large gap and were poised for a clean track the whole session. Unfortunately they would not complete the out lap as the black flag was shown just after the ArmsUp cars entered the racetrack. The black flag would end what was supposed to be Kindsfaters first session without the Colorado resident setting a time.

Kindsfater's only chance to set a qualifying lap will now be in Thursday's final qualifying session. Victor still sits 11th and will look to improve his time in the early morning session.

ArmsUp Motorsports will be posting daily from the SCCA Runoffs so check back at ArmsUpMotorsports.com to keep track of the team's progress.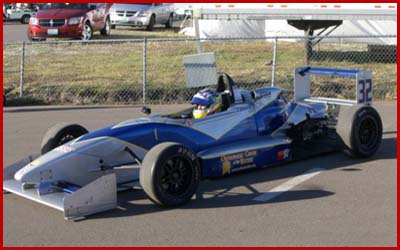 Kirk Kindsfater was forced to wait till the final qualifying session to set a time because of the black flag.