News
ArmsUp Motorsports at the Runoffs - Thursday Qualifying & Race Preview
TOPEKA, Kansas - Kirk Kindsfater will roll off of the grid for the SCCA National Championships from the seventh position, his ArmsUp Motorsports teammate Jim Victor will start from the 14th position. The story of the race may be rain though, as scattered storms are predicted in the Topeka area all day.

Thursdays qualifying proved to be both good and a little disappointing for ArmsUp Motorsports. Kirk Kindsfater turned his first official laps of the week in the final qualifying session. The result was a seventh place run giving Kindsfater a solid starting position for the race. Jim Victor did what he needed to do after Tuesday's session and went almost a second faster. Unfortunately the field also picked up and Victor dropped from 11th to 14th in the final tally. Looks can be deceiving though as three-tenths of a second would have netted Victor a top-ten starting position.

The race will go green this afternoon at 3:45. Overnight thunderstorms have left the track wet and the weather reports call for scattered storms the rest of the day. Last minute calls will be the name of the game as the weather unfolds before the green flag of the SCCA National Championships Runoffs Formula Continental event.

Look for a full race report from the SCCA National Championship Runoffs on Monday to see how the ArmsUp Motorsports drivers faired in this prestigious event.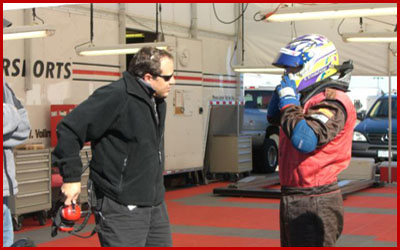 Gregg Borland and Kirk Kindsfater discuss Thursday's qualifying session where Kindsfater posted the seventh quickest time.