News
ArmsUp Motorsports Celebrates Triple Podium at Grand Prix of Indianapolis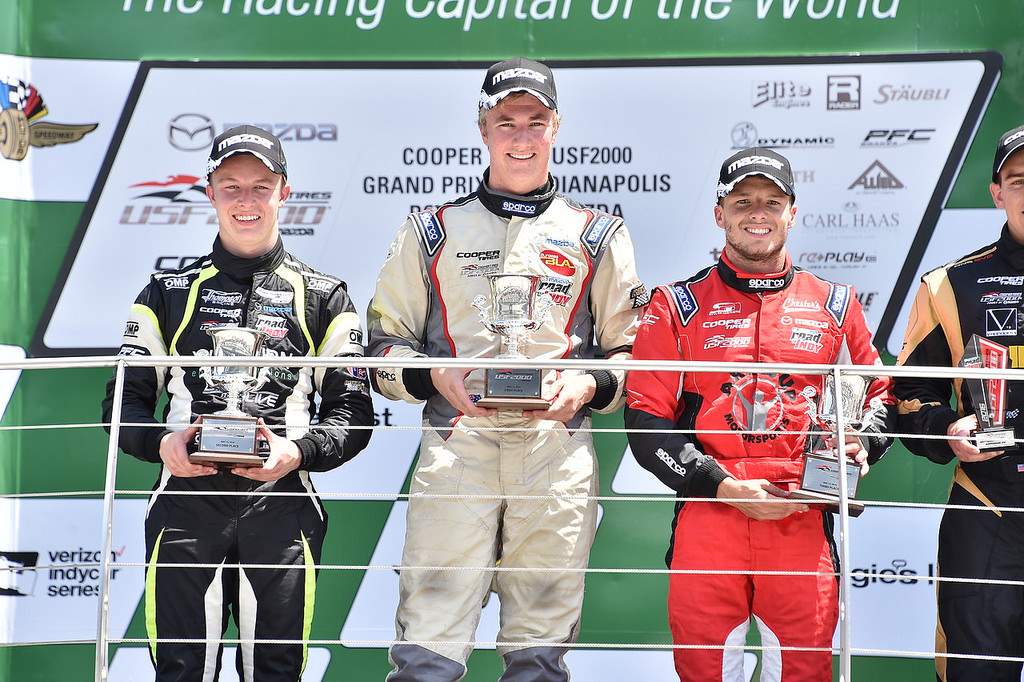 This weekend at the legendary Indianapolis Motor Speedway, ArmsUp Motorsports earned three podium finishes in Rounds 5 and 6 of the Cooper Tires USF2000 Championship Powered by Mazda. Brazilian driver Victor Franzoni earned a third place finish in Race One, and bettered his run one position the following day in Race Two. Dale VandenBush proved to be a strong contender in the National class in practice and qualifying, and went on to earn a win in Race 2. Teammate Max Hanratty showed one of the more impressive runs of his career, running lap times competitive to the rest of the field in practice and qualifying, then gained 13 positions in the opening race.

After running at the top of the charts in practice, Franzoni started Race One in 4th, with VandenBush in 21st. Hanratty missed the checkered flag in qualifying, running an extra lap, and as a result losing his qualifying laps as a penalty. He stared in 26th, and by lap two had climbed 11 positions to run 17th. A full course caution came out early, going back to green with 23 minutes left on the race clock. The transponder on VandenBush's car malfunctioned, forcing series officials to pit him for the rest of the race. Meanwhile, Franzoni advanced up to third position, and the top five cars spread out, also pulling away from the main back of cars. Ultimately, Franzoni finished in third place, and Hanratty finished 13th after starting 26th.

Franzoni started Race Two in fourth, and by turn one had gained two positions to run second. Several cars went off in the opening lap, resulting in a lengthy full course caution for track clean up. During the chaos, National Class driver Dale VandenBush had climbed from 24th to 17th. Hanratty again showed a strong start, gaining two spots as the field entered turn one on lap one. He continued his charge on the back straight, passing another four cars before getting caught in the shuffle that brought out the caution. He was able to rejoin after his off course excursion, but rejoined at the back of the field. As the field went back to green, 12 minutes of racing remained. The field spread out, with Franzoni finishing in second, Hanratty in 19th, and VandenBush winning the National Class.

The series will return in Indiana at the end of the month for the Carb Night Classic at Lucas Oil Raceway on May 27th. For more information, visit www.usf2000.com.

Max Hanratty
I moved up a little bit from yesterday's starting position to 18th today. We had a better position to attack, and I gained a couple spots going into turn one. On the back straight, I got a really good draft and passed about four cars going into turn six. Unfortunately there was a pile up, and I got pushed out and went through the grass. That moved me to the back of the field, and shortly after, we had a full course caution that lasted a while. We were ready to go on the restart and gained a position. I then got held up by one of the National class cars and going into turn 11 we made contact in the brake zone. I was given a drive through and that ruined our race. It wasn't the best race for us, and I'm looking forward to Road America. I want to thank SnyerComm, the entire ArmsUp crew, Mazda Racing, Sparco USA and Cooper Tire.

Victor Franzoni
The weekend was really good for me. On the Race 2 start, I went from fourth to second place before the safety car came out later that lap. ArmsUp did a great job and the car was really fast, but I wasn't in the position where I could catch Parker Thompson in P1 because here we race with almost no downforce. In the high speed turns, it's hard to keep it together because the car slides in the turns behind somebody. I waited for him to make a mistake that I could take advantage of to pass. The race was really short because of a lengthy caution. We finished in second, and we're happy with that. We're making some good improvements with each race. St. Petersburg wasn't great, but Barber was a good weekend. Here with two podiums, it was a great weekend. We're going to keep improving every race and I'm looking forward to the rest of the championship. I'm really happy about the weekend. I'd like to thank ArmsUp for an excellent effort, Mazda Racing, Cooper Tires and the Road to Indy.

Dale VandenBush
It was pure satisfaction to snag a win in Race 2. Some wins are born from avoiding the mayhem around you, and that was the case. After being fastest in the Thursday practices, dropping out of Friday's Race 1 was pretty gut wrenching. But when you have a team like ArmsUp behind you, you forget about yesterday's bad luck and just be ready to drive the wheels off the car again. Racing at the Indianapolis Motor Speedway was a rare privilege but I can't wait to take on all comers at my home turf of Road America.