News
ArmsUp Motorsports Podiums Again at Lucas Oil Raceway in Carb Night Classic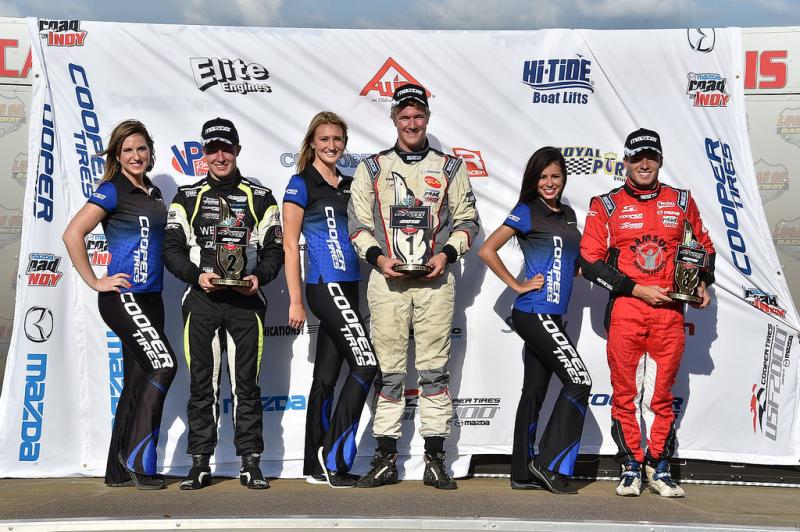 ArmsUp Motorsports secured another podium at the Carb Night Classic Freedom 75, round 7 of the Cooper Tires USF2000 Championship Powered by Mazda. The 75-lap race took place in Brownsburg, Indiana on the .686-mile, semi-banked pavement oval at Lucas Oil Raceway Park just 6 miles west of the Indianapolis Motor Speedway where the 100th Running of the Indianapolis 500 will take place on Sunday.

The team succeeded their podium efforts with Brazilian, Victor Franzoni, who was 4th in points going into Round 7 of the championship. Each car qualified one-by-one on the short oval. Franzoni finished in 4th position for the qualifying session and then the team went to work to make minimal changes before getting back on track the next hour for the green flag.

"Qualifying was good for us," said Franzoni. "The track has changed a lot from yesterday. Yesterday we had a really good car, today we had a little bit of understeer. But it's ok, we're going to work (on the car) a little bit for the race and fix everything before the race. But it's good, we're there in the top again and that's important. This oval race is 75 laps so we have time to try different stuff while the track is changing. So we'll be fine for the race for sure."

With only an hour and a half between qualifying and race, the team quickly made a few adjustments and went back to grid to wait for the command. Once the green flag flew Franzoni made a quick move to the 3rd position where he would end up at the end of the 75 laps. Towards the end, the Brazilian was closing the gap on the cars holding first and second and with a few more laps he could have fought for second. Franzoni and the team were still happy to bring home another podium finish, bringing in valuable championship points.

Franzoni followed up after the race, "The race was really cool. We started fourth and I moved to 3rd at the start. I couldn't manage to keep the gap from moving forward but I couldn't catch the two Cape guys. At the end I was faster and catching them, but we didn't have enough laps. We needed 20 more laps to be perfect. But it was good. I'm glad ArmsUp did a great job again giving us another consecutive podium. So we are there, but we need a little more to win the race. But I'm happy for another podium."

Team owner, Gregg Borland, was satisfied with his team's efforts over the weekend. "For us it was a good weekend," Borland said. "I think we qualified well. Victor was disappointed with where we qualified in 4th, because I think we had more in the car but with the Silver Crown cars putting rubber down I think it affected us a little differently than we expected. We did ok with that. I'm happy with 4th place and his start was great. Victor had a car that was good over a long run and at the end, we started closing in on the leaders and caught up with them. If we had five more laps it would have been different. I'm really pleased with what Victor did and the team did a great job."

The team will move focus to Rounds 8 & 9 of the championship at Road America in Elkhart Lake, WI on June 24-26 in hopes to continue their podium streak. For more information, visit www.usf2000.com.

About ArmsUp Motorsports
ArmsUp Motorsports was established in 1995 by twenty year lead instructor for Skip Barber Racing School, Gregg Borland. It has since then grown to be a leading team in the world of motorsports. ArmsUp Motorsports is a full service prep facility with a team of highly experienced mechanics, driving coaches, and engineers readily available to assist in the success of each driver. The team specializes in Pro F2000, Formula Continental, Formula Atlantic, and Vintage Car racing.