News
Dakota Dickerson Adds Top-Ten Result for ArmsUp Motorsports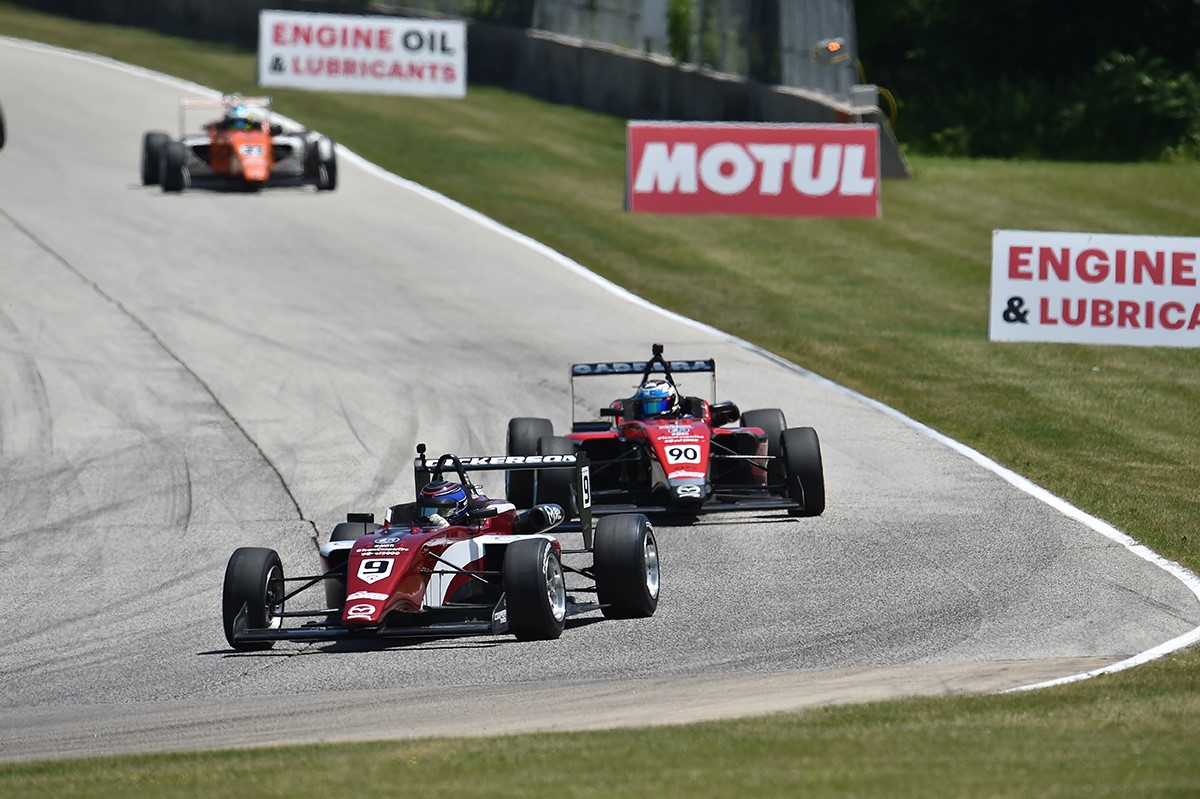 Taking part in what is their home event of the 2018 Cooper Tires USF2000 Championship Powered by Mazda, ArmsUp Motorsports claimed a top-ten result with team newcomer Dakota Dickerson. Competing at the iconic Road America facility in Elkhart Lake Wisconsin, the Sheboygan Falls based outfit was able to show big improvement throughout the weekend and will now shift their focus to the next event in Toronto.
Friday saw a single practice session and qualifying for the first wheel-to-wheel action of the weekend. When the checkered flag flew, both ArmsUp Motorsports drivers were classified in the top-twenty with Max Peichel in the 17th position and Dakota Dickerson in P20.

"Qualifying was not what we had planned as we were looking to continue the improvement and have both drivers inside the top-fifteen," explained Gregg Borland, Owner of ArmsUp Motorsports. "The races were significantly better for us as Dakota was able to secure a pair of top-fifteen results including a ninth on Sunday."

Saturday was the host for a fairly clean event as only a pair of caution periods allowed for several green flag runs and good, competitive racing. Dickerson was able to advance forward to finish 14th while Peichel would be involved in a fierce race long group battle that resulted in contact breaking his front wing. Driving without the main source of front grip, Peichel was able to cross the stripe in P20.

Back to Road America on Sunday morning, round seven of the Cooper Tires USF2000 Championship Powered by Mazda took the green at 8:00am. Some antsy drivers in front of a growing IndyCar Series crowd provided for several incidents, including one in the first corner that eliminated Peichel from the event. With a damaged front wing and suspension, the Starkey Hearing Foundation supported driver was forced to retire before his race even got started.

Taking advantage of other competitors' mistakes as well as using the speed of his ArmsUp Motorsports prepared USF-17, Dickerson was able to continue his march forward as he moved inside the top-ten. In a caution-filled event, Dickerson ended his race in the ninth position, scoring ArmsUp Motorsports a second top-ten finish of the 2018 season.

Borland added, "I need to thank my drivers, crew and all of our partners for the continued support in 2018. We had some last minute personnel changes before the event and everyone was able to pull together, work as a team and advance forward when it came down to racing."

With Road America behind them, ArmsUp Motorsports will now focus on the next event of the Cooper Tires USF2000 Championship Powered by Mazda, the Grand Prix of Toronto. Taking place during the second weekend in July, ArmsUp Motorsports will look to show their street course prowess north of the border in Canada.